If there were just a few places to see in Martinique, Saint-Pierre would be one of them. Surrounded by shimmering nature, it stands like Pompeii on the scars of the 20th century's most tragic eruption. Let's find out about this fascinating awakening sleeping beauty.
OPEN SKY HERITAGE. ~ Before 1902, Saint-Pierre was Martinique's economic and cultural engine. Mount Pelée's eruption destroyed its walls and souls, causing 30,000 casualties. Since then, the city has repopulated. It revitalized focusing on tourism, building on its ruins and many other assets. Located at the foot of a world- renowned volcano, it has many remarkable archaeological 2 sites and is indeed the perfect place to discover heritage and green tourism. Its exceptionally beautiful turquoise harbor is a famous dive site sheltering age-old ships swallowed by the sea on eruption day. On land, a simple urban stroll leads to exceptional archaeological sites and impressive ruins, like those of the old theater, stirring your imagination.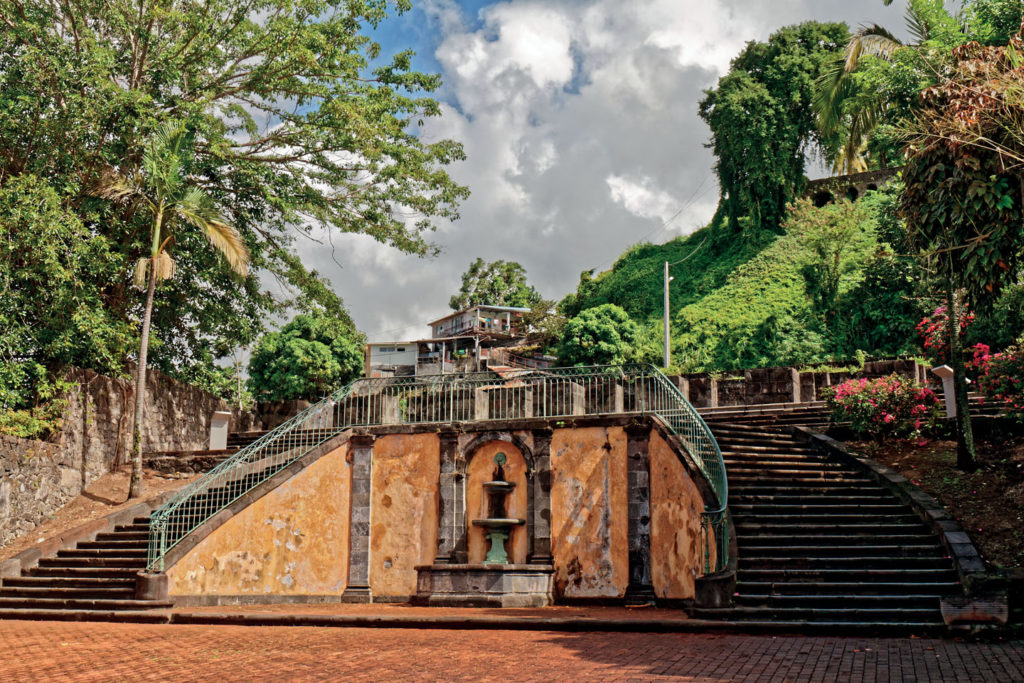 ENHANCING HISTORY. ~ Passing through Saint-Pierre in late 2018, French President Emmanuel Macron welcomed the renewal with its label: "City of Art and History". More recently, last February, journalist Stéphane Bern, in charge of the Heritage Foundation at the national level, decided to make a stop in Saint-Pierre to support the renovation of some historic facades. Furthermore, philosopher and essayist Michel Onfray fell in love with the city where he ended up settling. Now it's our turn, in May, to discover what was once called "Tropical Venice" and "Little Paris of the Antilles".
1. La Rade de Saint Pierre et la Montagne Pelée – The Saint-Pierre cove and Mount Pelée/ 2. Panorama à flanc de colline de la Montagne Pelée – Mount Pelee onAir 54 17 green volcano hillside panorama / 3. L'ancien théâtre de St-Pierre – Former St-Pierre theater
Crédits photos : Shutterstock