Martinican start-up Petit Cocotier, organic farming distributor, keeps growing, rooted in its values and time.
FROM THE GARDEN TO THE KITCHEN. ~ Petit Cocotier's concept: Pesticide-free produce, respectful of people and their environment, accessible via the web and delivered to drop-off points throughout Martinique. The agrofarm is located on the slopes of Mount Pelée and counts about sixty varieties. Fruits, vegetables, spices and aromatic plants grow on no-chlordecone certified land. Cultivators rely on agroecology, permaculture and agroforestry. At the source: André-Judes Cadasse, in charge of trade and logistics, his brother Sébastien, agricultural engineer and their childhood friend, Cédric Colman, web marketer. In 2015, they founded petitcocotier.com, a website where you can order, pay for and have seasonal baskets delivered.
SUSTAINABLE DEVELOPMENT. ~ "At the beginning we distributed our own produce" says André-Judes Cadasse. Other producers are now part of it. They join forces as one market, but also and especially about values: "Solidarity, mutual aid and respect for people," declares André-Judes Cadasse. The founders wanted to "stand out from industrial agriculture" defending organic farming for "positive and healthy food: on the land, excluding pesticides and chemicals; for workers, exempting them from dangerous phytosanitary products; for consumers, preserving their health." With these ethics and practices, the company won 1st prize at the Overseas Innovation competition in the " Sustainable Development "category, organized last November by Outre-Mer Network.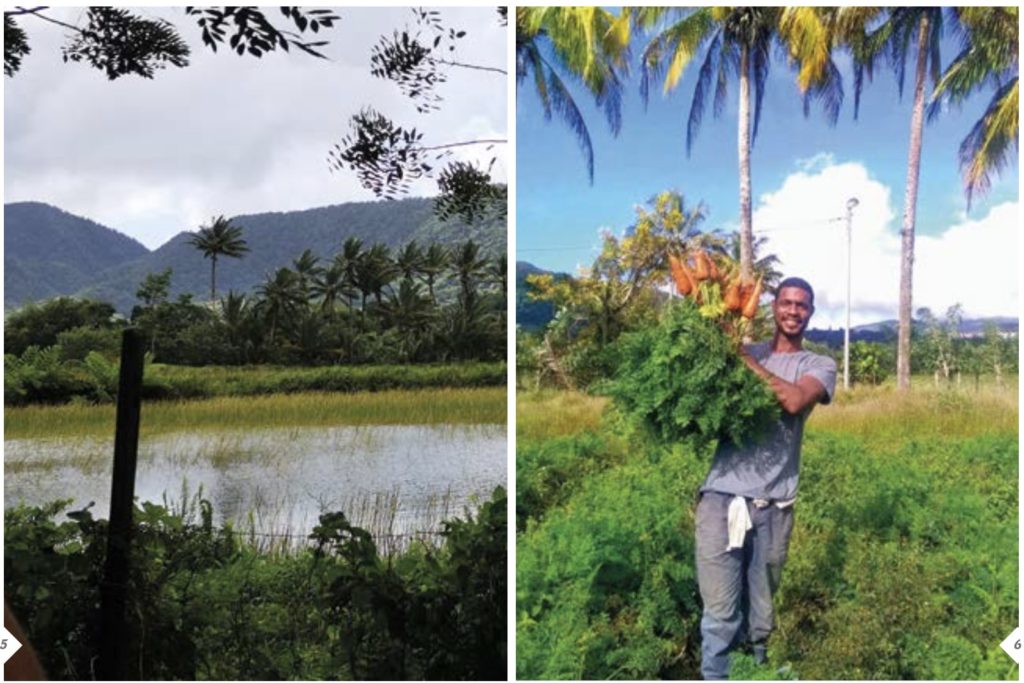 3 questions for Andre-Judes Cadasse, co- founder of Petit Cocotier
ONAIR: Can you tell us about the origin of your project?
André-Judes Cadasse: Petit Cocotier is first of all the story of 2 families: my brother and I are the 4th generation of a farming family. Our friend and co-founder Cédric Colman comes from 4 generations of culinary professionals. We therefore position ourselves from the garden to the kitchen and we fight for this short cut between producers and consumers for local and healthy food.
OA: What is your position regarding organic farming?
AJC: We do not support the organic labels business as sometimes labels lose credibility with exemptions allowing specialized use of phytosanitary products. We decided to have our label, specific to tropical areas. It will take into account, in addition to healthy agriculture on healthy land, respect for human beings, which is not necessarily the case for organic. I would point out, however, that some organic labels are very much in our line and that many organic labeled producers are doing excellent work.
OA: What are your future plans?
AJC: We hope to start transforming, in particular, produce which are least appreciated raw, such as yams or dasheen. We plan to offer them in the form of fries or pancakes for example. By presenting produce differently, it enhances them. We are already working on the culinary dimension: on our website, you can find recipes to cook what we deliver.
INFOS / CONTACTS
PHONE : +596 696 07 67 76
E-MAIL : BONJOUR@PETITCOCOTIER.FR
FB : FACEBOOK.COM/PETITCOCOTIER/
WEBSITE : HTTP://WWW.PETITCOCOTIER.COM/