Guadeloupe Pôle Caraïbes Airport Company's ambition: have the ability to receive 3 million passengers by 2025. To do so, the airport is changing it all.
Reaching 3 million passengers.~The Guade- loupe Pôle Caraïbes Airport Company has scheduled major investment projects this year, some of them already in progress. Airport company is aiming to increase his capacity up to 3 mil- lion passengers by 2025. To reach it, the airport will undergo a complete makeover: extending Terminal T1 to twice its size, re- inforcing the runway, building 2 new wide-body aircraft parking stands, putting into service new boarding bridges, etc. Extend- ing Terminal T2 is also on the agenda, by creating a dedicat- ed luggage delivery area. The investment program amounts to almost 250 million euros.
Quality service priority. ~ Beyond these enormous works, the new infrastructures will improve and streamline passenger experience. Technological innovations will upgrade passenger services and information. Another commitment: sustainable development with a stronger focus on energy management and green energy production. Lastly, improved service will be offered to passengers with the overhaul of the commercial and, food and beverage offer, both landside and airside. In addition, the extension will better reflect the territory's assets and Caribbean identity, through the introduction of greenery and the use of wooden garden central to the architectural project. It is led by the firm Enia Architectes, selected at the end of a 7-month study and an architectural competition.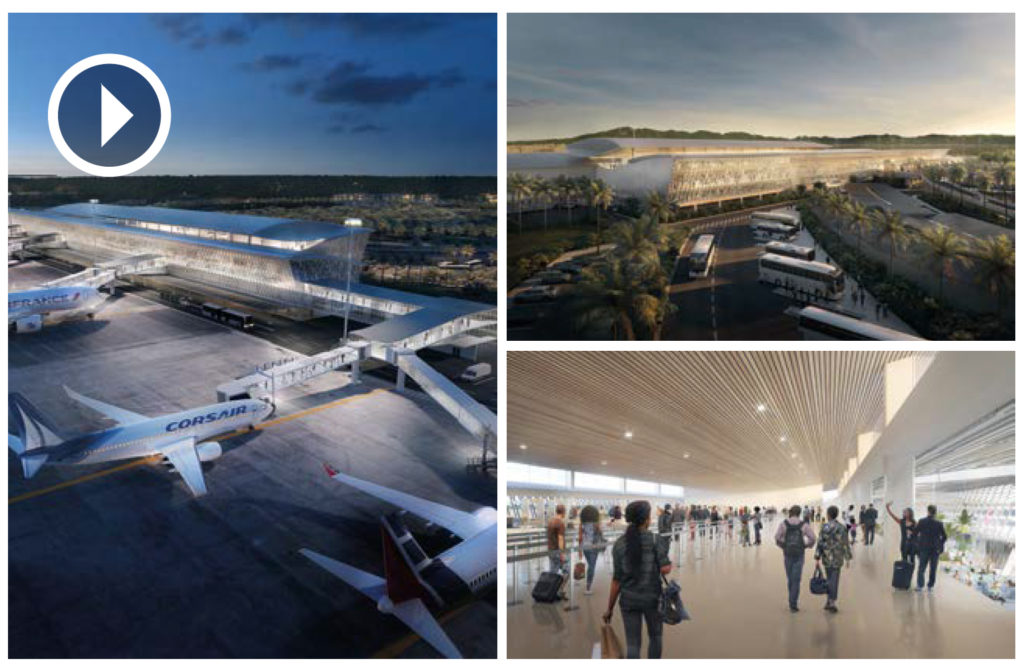 A gateway to the world. ~ These investments will make the archipelago more accessible to passengers from Europe, the Caribbean, North America, and soon from South America. Passenger traffic has been increasing for 5 years with the introduction of low-cost companies and the work performed in collaboration with the Region and the Tourism Committee of the Guadeloupe Islands. (CTIG), the airport company is on its way to win its challenge: in 2019, the airport broke its record by welcoming 2,488,782 passengers. A great present for the airport company celebrating its fifth anniversary.
SAGPC IN FIGURES
150 DAILY AIRCRAFT ACTIVITY
ALMOST 2,500,000 PASSENGERS PER YEAR
2 PASSENGER TERMINALS
10 STAFF
360 HECTARES
60 MILLION EUROS IN TURNOVER
WWW.GUADELOUPE.AEROPORT.FR