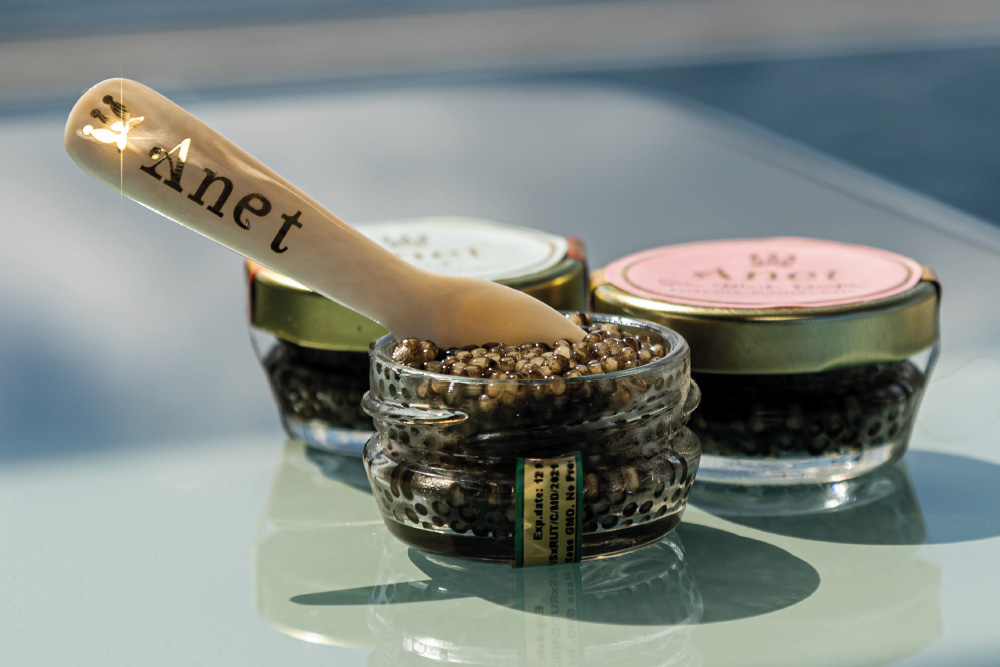 Unique in its authenticity and delicately presented in soft pastel shades, Anet Caviar is an exceptional gift for the unacquainted and connoisseurs alike. This ethically sourced delicacy was the inspiration of Anet Alexandra, whose formative years near the Caspian sea have left a lasting impression, while equally fine-tuning her palate and developing her knowledge of the realm of caviar.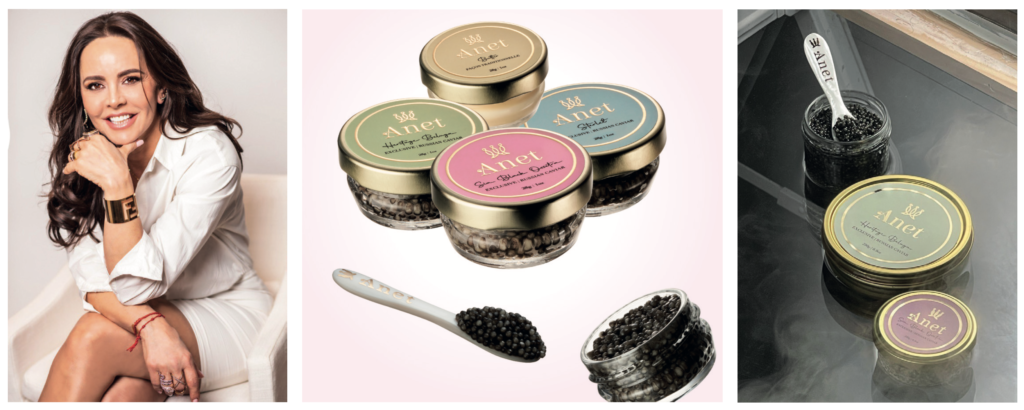 ONAIR – Can you tell us how you were initially inspired to create the Anet Caviar brand?
Anet Caviar – Having grown up with caviar as a key part of my culture, I am naturally concerned about the overexploitation of sturgeon as a result of the caviar industry. Existing since the time of the dinosaurs, the sturgeon is now in danger of extinction. I was keen to find a way to protect this species and yet preserve this delectable tradition. After much research, I discovered 'Milked Caviar' whose superior qualities reflect its ethically responsible source. 'Anet Caviar' was subsequently established with a mission to share this extraordinary Milked Caviar with others, while enlightening them on the virtues of its integrity.
OA – Can you tell us more about Milked Caviar?
AC – First and foremost, this 'wonder product' is produced without causing any harm to the female sturgeon. This involves a natural harvesting process, whereby the fish is "milked" (massaged) to release its eggs. And it is most encouraging to see these sturgeon happily swimming away afterwards.
OA – How would you best describe Anet Caviar?
AC – Our caviar is an immersive experience, taking you on a journey where an orchestra of seductive notes emerges from each individual pearl: the freshness of sea spray transports you to the ocean shore, while its smooth buttery notes are reminiscent of fine French pastries lightly dusted with roasted almonds.
OA – How does Anet Caviar differ from other brands?
AC – In addition to its sustainability, Anet Caviar's production method is totally transparent with complete traceability from source to consumer. Furthermore, Milked Caviar is free from artificial additives and preservatives; and its subtle flavors appeal to a wide variety of people regardless of background or culture.
OA – You also believe that caviar should not be exclusive; how are you going to make it accessible to others?
AC – I strongly believe that caviar should be "inclusive" versus "exclusive". Beyond its great taste, caviar has many benefits, including a high protein content and essential micronutrients. While raising awareness of Milked Caviar, I have equally been promoting these qualities to a broad international audience.
OA – Can you tell me about your involvement with UNICEF?
AC – Anet Caviar featured at the inaugural Winter Gala of LuisaViaRoma for UNICEF, held at the chic Eden Rock Hotel on St Barts. This impressive fundraising event attracted many notable celebrities, including the multiple Grammy award winning singer Dua Lipa. Anet Caviar was proud to support this important cause by being part of this fabulous gala.
OA – Where can I find Anet Caviar?
AC – Anet Caviar is currently available online in the United States and the Caribbean; and you will soon be able to purchase it directly from select boutiques and restaurants. You can simply place an order via our website www.byanet.co. You can also find us on Facebook @caviarbyanet and Instagram @by_anetalexandra
MORE INFORMATIONS
Facebook : @caviarbyanet
Instagram : @by_anetalexandra