Majestic Basse-Terre, fascinating Grande-Terre, authentic Marie-Galante, surprising La Désirade and Mind Blowing Les Saintes… and the remarkable rum culture everywhere. Let's discover Guadeloupe Islands, the jewels of the Caribbean Arc.
MAJESTIC BASSE-TERRE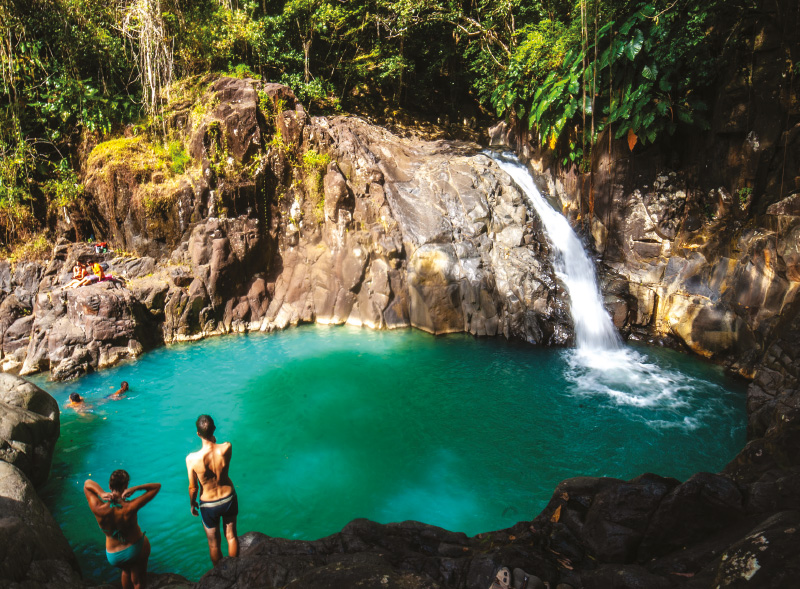 The Soufrière volcano rises on Basse-Terre with gran- deur. The Old Lady, as it is called, culminates at 1,467 meters above sea level. It is a unique sight on the island : steep slopes, rivers, waterfalls… nestled in a tropical, generous forest. All bordered by beaches with sand ranging from white, gold, ochre, copper to volcanic black. A showcase for biodiversity awakening all the senses. The ascent of the dormant volcano offers hikers a diversity of landscapes: a lush tropical forest rubs shoulders with maquis; at its peak, enjoy the breathtak- ing panorama of Les Saintes. Basse-Terre is also home to the Guadeloupe National Park one of the 10 national parks in France: a lagoon, forests, and mangroves with a preserved ecosystem… The site is classified as a World Biosphere Reserve by Unesco. Also on the sea side, it is home to the largest coral reef in the Lesser Antilles where fish, starfish, sea turtles and even cetaceans can be seen by divers.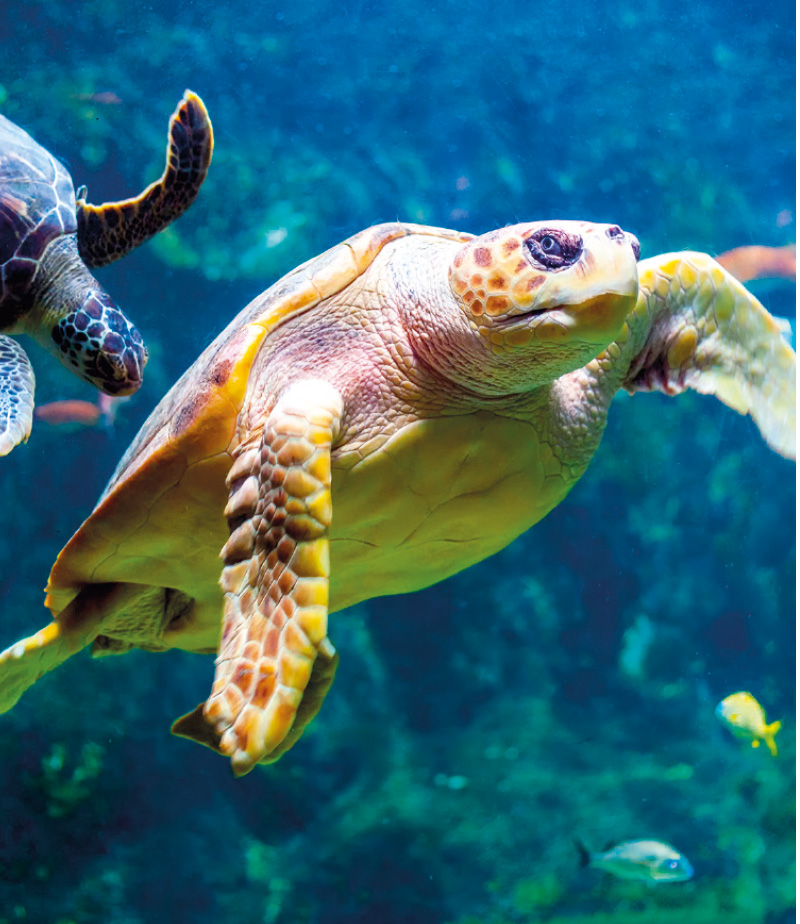 https://www.lesilesdeguadeloupe.com/tourisme/fr-fr/iles/basse-terre
AUTHENTIC MARIE-GALANTE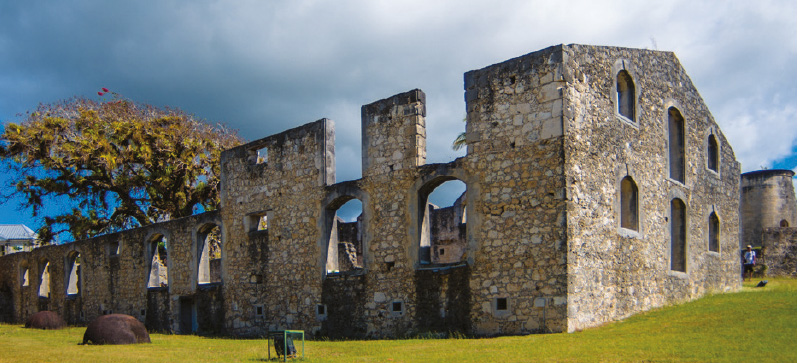 With dwellings dating back centuries and ox carts, the "grande galette", as it is called, is an "authentic" island. Discovering it by bike offers an exciting experience, be- tween its hundred mills, mangroves, crystal clear beach- es such as the Cove of Mays and its sugar cane fields. Three distilleries are still operating. The island's heritage is rich: the Murat ecomuseum, Roussel-Trianon in the town of Grand Bourg, the Bézard mill and more, for a journey through time. To the north, in Saint-Louis, a walk will take you to impressive cliffs where the Atlantic Ocean lashed the "Gueule-Grand-Gouffre".
https://www.lesilesdeguadeloupe.com/tourisme/fr-fr/iles/marie-galante
SURPRISING LA DÉSIRADE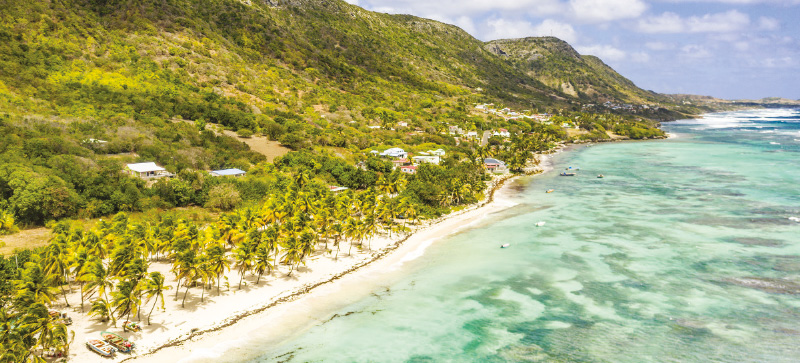 The first land seen by Christopher Columbus after leaving the Canary Islands in 1493, La Désirade is divided into 3 islands including Terre-de-Haut and Terre-de-Bas, both uninhabited. A national nature reserve has been created in the northeast. In addition to a huge cactus garden, you candiscover courbarils, guavas, flamboyants… The land is also home to iguanas and the emblematic agoutis. Along magnificent white sand or pebble beaches, there is an ex- ceptional seabed! La Désirade offers other curiosities, some of which are listed as historical monuments such as the old weather station or the Notre-Dame-du-Bon-Se- cours church, built in 1754.
https://www.lesilesdeguadeloupe.com/tourisme/fr-fr/iles/la-desirade
FASCINATING GRANDE-TERRE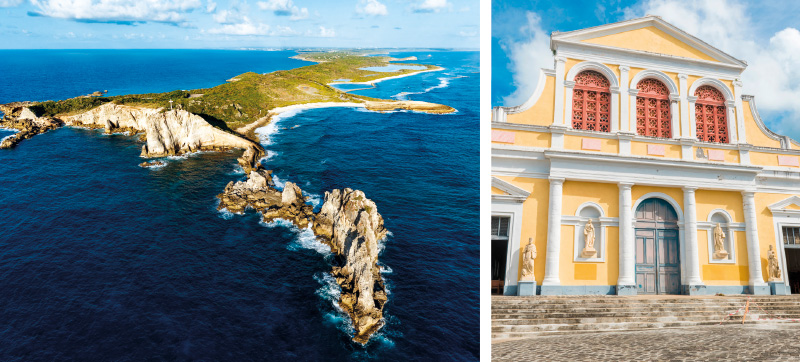 Kilometers of heavenly beaches for customized va- cations, with relaxation for some and water sports for others. An opportunity for everyone to enjoy Guadeloupean cuisine and its delicacies, from food trucks to restaurants. At the end of Grande-Terre, the Pointe des Châteaux and its impressive cliffs of- fer a spectacular sight. Grande-Terre is also the beating heart of Pointe-à-Pitre and an essential stopover at the Memorial ACTe. With its incompa- rable collection of objects and works of art, this is a high place of culture where you can immerse your- self in Guadeloupe's history. Like the Schoelcher Museum and the Renaissance theater in the same town or the church of Saint Jean-Baptiste in the town of Le Moule.
https://www.lesilesdeguadeloupe.com/tourisme/fr-fr/iles/grande-terre
MIND BLOWING LES SAINTES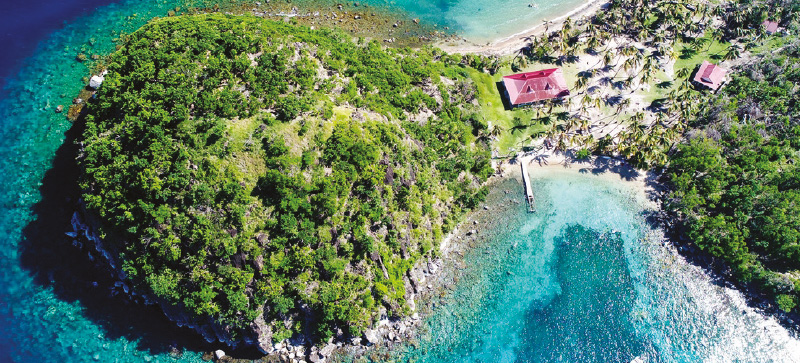 Les Saintes is composed of 9 islets scattered to the south-east of Basse-Terre. Only 2 are inhabited; the others have remained wild. A view of Bay des Saintes from a terrace in Terre-de-Bas; peace experienced at sunset on one of the magnificent beaches of Terre-de- Haut… The coasts of the archipelago go beyond your imagination! The seabed is very rich, and the water is crystal clear: it is the perfect opportunity for a first dive! In terms of architecture, you will be amazed by the multicolored houses of Terre-de-Haut, as well as its majestic Fort Napoleon. Do not miss the famous sugar loaf, and local specialties such as the "tourment d'amour", a small cake filled with coconut. At Terre-de- Bas you will find beaches with shaded sands and hiking trails for walks of all difficulty levels. Heritage is also in the spotlight, with a church dating from the 17th century and the ruins of the Fidelin pottery manufacture.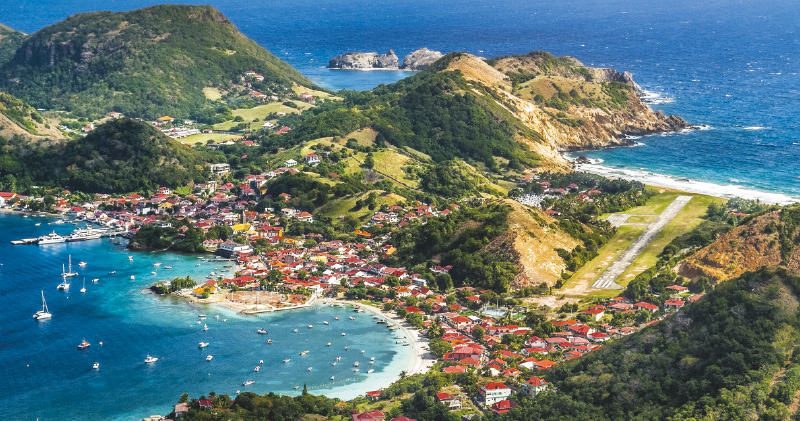 https://www.lesilesdeguadeloupe.com/tourisme/fr-fr/iles/les-saintes
Guadeloupe islands, Travelling to the Rums of Excellence!
Sugar cane is the traditional crop in the islands of Guadeloupe, producing rums of excellence. The Guade- loupe archipelago has nine distilleries. Each produces a rum with its own character. Explore the islands of Guadeloupe with itineraries that focus on spiritourism. You can visit, eat, and even sleep in emblematicplaces. With the distilleries, sugar refineries, houses, and rum distilleries, discover a destination with rums of excellence! In order to establish its position as a destination, Land of rums of prestige, the CTIG and the Guadeloupe Region have created the brand "Les Iles de Guadeloupe, Destination Rum of Excellence" as well as its own visual identity.