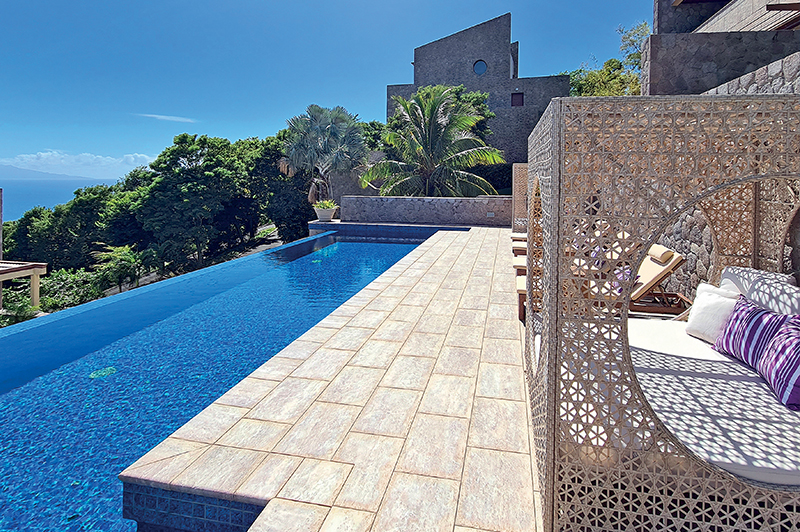 My 1st is a mix of architectural mastery made of volcanic stones and refined design down in the smallest details. My 2nd is the concept of discreet luxury pushed to the point of anticipating your slightest desire. My 3rd is a quintessence of green technologies nestled in the heart of the tropical forest that serves as natural display. My whole is a cocoon where to curl up in the heart of Dominica…
More clues? My totemic animal is the hummingbird. I live on a wooded ridge at the southern tip of the island of the 365 rivers. My two closest friends are a playful wind that runs in a roll of freshness in the shade of my alleys and the "Morne Fou" which stands stoically in front of me like a protective God watching over the tranquility of my visitors. My name is Coulibri Ridge. My mission: make your stay on the Nature Island an unforgettable 5-star experience of relaxation.

Here, you are in the town of Soufrière, a diving spot also famous for its bath in hot water – about thirty minutes from Roseau. Ideal to unwind in complete serenity, in the aftermath of the World Creole Music Festival. What strikes the most upon arrival at the Coulibri Ridge resort, is the quietness of the place. Here, we are far from the hustle and bustle of the city. The surrounding hills are wrapped up in a comforting coat of vegetation. More importantly, here you are welcomed with a smile and kindness. It's now time to walk through the winding alleys of the flowery park up to your suite. There are 14 of those – 3 of which come with their own private pool – all cascading from a gentle slope facing the sea with a direct view on the neighboring island of Martinique.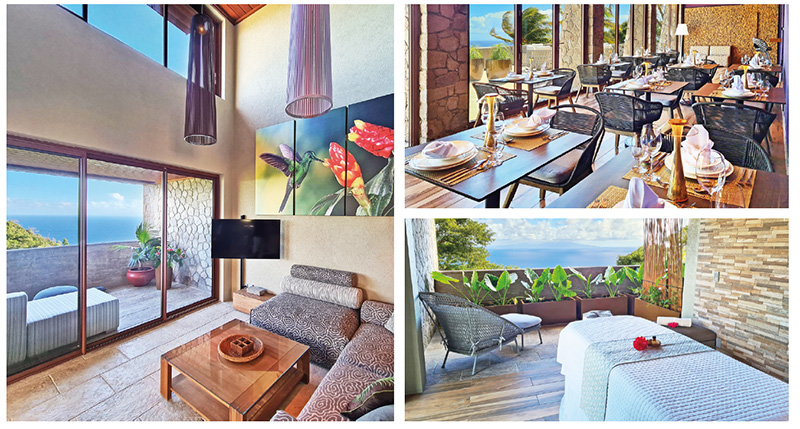 Inside, everything screams 'absolute comfort'. The furniture is tastefully chosen from natural materials. The king size bed is strategically positioned facing the bay window to take full advantage of the view. Everything has been designed as an invitation to relaxation. A small living room and a fully equipped kitchen as well as an XXL bathroom complete this impression of space which extends onto a large private terrace.
You may prefer strolling in the 279-acre park or through the ruins of its 18th century mill – witness of the time when an aloe plantation occupied the premises? Or relaxing by the infinity pool overlooking one of the 2 restaurants? They offer a refined fusion cuisine between of local and French gastronomy only utilizing products from the nearby lands and sea.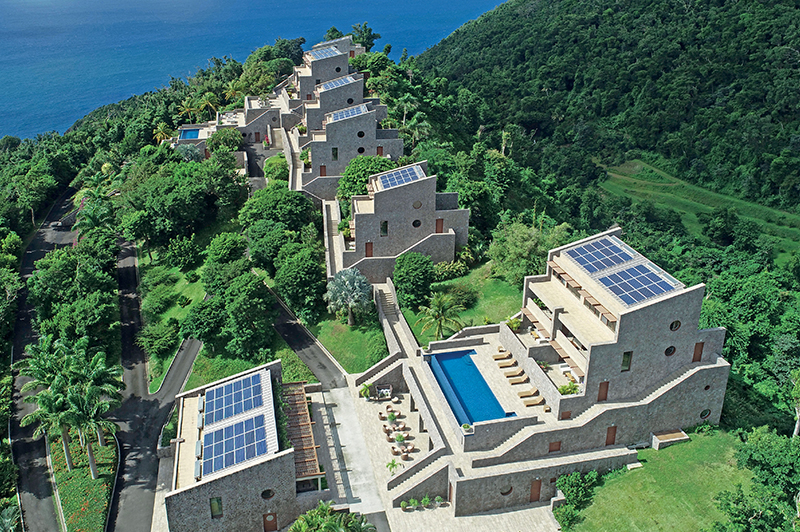 But what makes the Coulibri Ridge so special, beyond its top-of-the-range features, is the green philosophy behind it. Dominique Marchand, General Manager of the place, describes it as follows: "The intention was really to create a small resort hotel where the carbon footprint is – as much as possible – equal to zero. So from conception, design and construction, everything has been put in place to research the latest sustainable energy technologies, whether solar, wind-powered, all our infrastructures to purify the rainwater we capture, the stones that come directly from the property to build the project. All the furniture, the materials have all been chosen because they are either directly available here, on site, or because they are sustainable, recyclable or recycled. The idea was to create a place – we hoped – would be very beautiful, very inspiring, where people could experience these technologies, this way of life which is essential now, and discover that access to a comfortable discreet luxury with these renewable energies is possible."
Auteur : Edgard Parfait
MORE INFORMATION
https://www.coulibriridge.com/