It's like an expectation, an annual ritual, that heralds the Easter festivities: "matoutou" of crab—"matété" in Guadeloupe—a highly anticipated treat every year in the West Indies.
Connoisseurs await with impatience for the end of Lent, a time when they (in theory) did penitence, fasted, and ate lightly. Their reward: "matoutou" or "matété" of crab, a popular dish for which there are even culinary contests! It is made with land crabs, as their characteristic fat improves the taste. These are the same crabs that were once a main source of nutrition for the Amerindians and then the slaves.
To make this legendary dish, there are several schools of thought: those who cook the crabs with rice, and those like me who cook the rice separately. Yes, for me, the rice is but an accessory to the king of the fête: the crab! But to each their own taste. My recipe is at the crossroads of traditional and contemporary cuisine: made with colombo and herbs!
The ingredients (for 5 people):
• 10 crabs
• The fat from the 10 crabs
The juice of 3 limes
• 4 garlic cloves
• 1 large bouquet garni
• 1 yellow onion
• 1 soup spoon of colombo paste
• 1 green mango
• 1 bouquet of herbage
• Bay Rum leaves
• Salt, pepper
• Oil
• 1 large chili pepper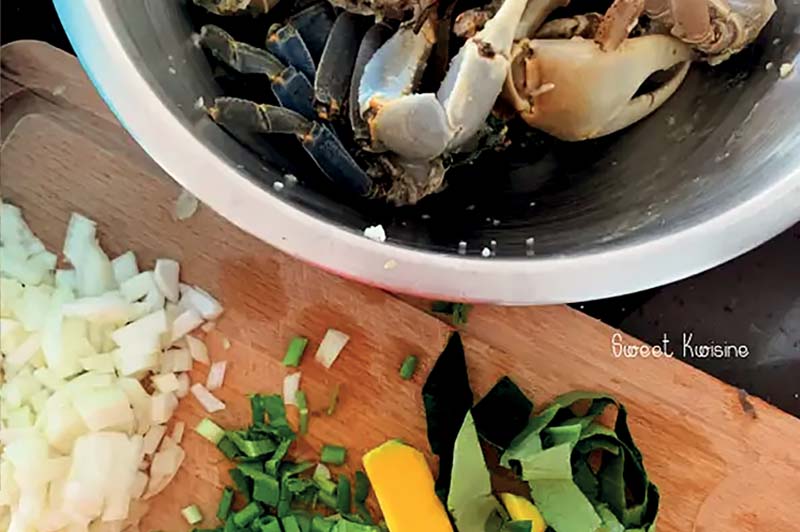 THE RECIPE:
Seasoning
~ Cut each crab in half. Lightly crush the large claws (the "mordants" in Creole) so that the marinade and sauce can easily reach the flesh.
~ Remove the pointed end of each leg for the same reason. If the crab has hairs, scrape them off with a sharpened knife.
~ Macerate at least two hours in the lime juice (or orange juice), garlic, and bay leaves.
Cooking
~ Dice all the herbs, onion, and garlic.
~ In a large stewpot, sauté the onion and garlic in oil.
~ Then add the herbs and cook for a minute. Next it's time for the crabs, sauté for 2 to 3 minutes.
~ Now add the fat from the crabs, the colombo paste, a little water, the green mango cut into slices, and the diced herbage.
~ Season with salt and pepper.
~ Mix well and add a little water. Cook covered over medium heat for about 40 minutes. Check regularly so that the sauce does not become too reduced or stuck to the bottom of the pot. It should be creamy.
~ During this time, cook white rice or breadfruit.
~ 10 minutes before the end of the cooking time, place the hot pepper on top of the crabs and close the pot again.
~ Let cool… reheat immediately before serving.
Oh yes! Plan on having nutcrackers for the crab legs, lots of napkins, finger bowls, and plates for the shells.
Enjoy, and Happy Easter!