In Camopi, Guiana, Teko and Wayãpi storytellers and fifth-grade students have created a collection of Amerindian myths handed out to local children and intended to be more widely distributed. 
TRANSMISSION ~ The Wayãpi and Teko Amerindians of French Guiana, populations speaking Tupi-Guarani languages, live in the town of Camopi on the French bank of the Oyapock, located in the Guiana Amazonian Park. For several years, the park has been supporting storytellers' presentations at the town school. This project aims to familiarize students with this transmission practice by drawing on tales from their culture. The Wayãpi and Teko tales collection provides continuity to these presentations: the goal was to create written material that students and their families could keep.
LITTLE ARTISTS ~ The fifth-grade students were closely involved in producing the collection. They created all the drawings illustrating the stories in workshops supervised by a professional illustrator. "Students have superbly appropriated the drawing and cutting techniques… and the result is amazing!", notes the Guiana Amazonian Park. The tales were then translated into French and collected in a hardback book. Five hundred copies were printed and distributed to all Camopi and Trois-Sauts school students. 
PARTNERSHIPS AND A COMMON BASE ~ Through this achievement, the children also worked on verbal and written expression based on the tales' themes: a magical-spiritual universe, forest biodiversity, family ties and the mythical history of Oyapock Amerindian peoples. Many partners made this project possible alongside the Guiana Amazonian Park: the General Directorate of Cohesion and Guiana Populations, the Rectorate, the Guiana Tourism Committee, the Guiana Regional Health Agency – "Well-being of the inland populations" Program. A edition of this collection for all is expected by the end of the year or early 2021.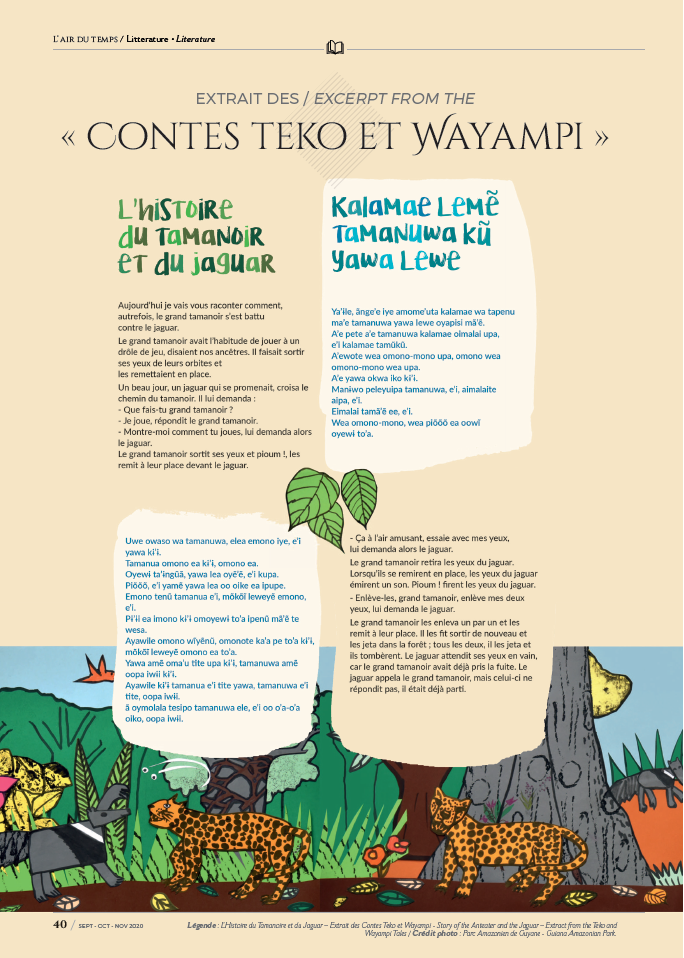 CONTACT
HTTP://PARC-AMAZONIEN-GUYANE.FR/
TÉL : +594 594 29 12 52