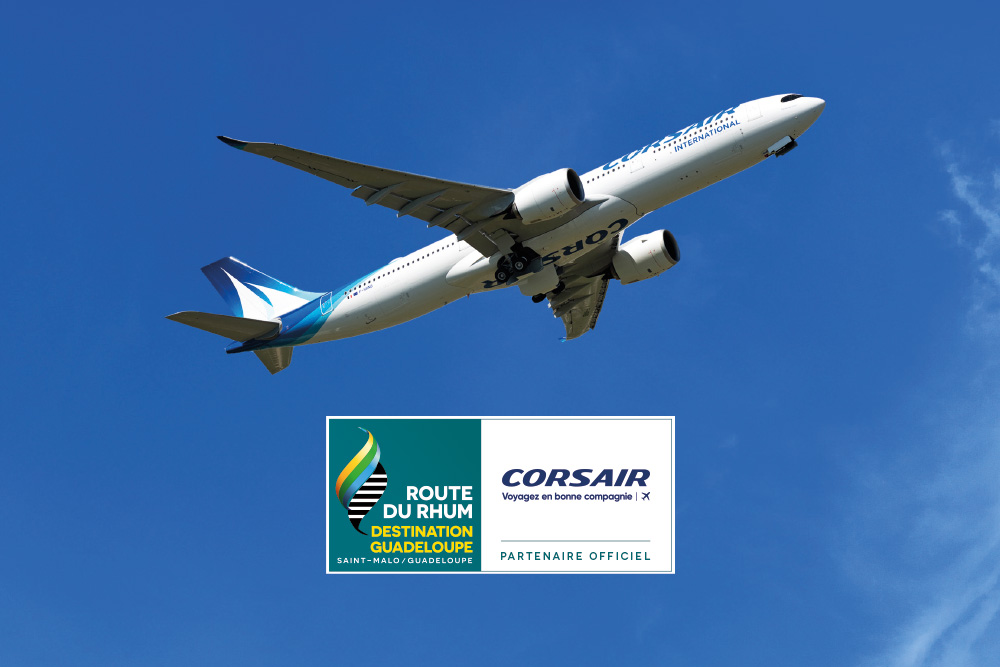 Operating in Overseas services for more than 30 years, Corsair is an official partner of the Route du Rhum starting on November 6, 2022 from Saint-Malo to Guadeloupe. The company strengthens its roots in the local life of overseas territories.
«We want to support the influence of the Guadeloupe region through our partnership with the Route du Rhum and our daily actions,» the company explains.
Its new signature "Travel in Good Company", unveiled this year, will spearhead its quality service during the race. «This commitment to our customers will benefit all the crews in the race, their families as well as visitors coming for the race and traveling with Corsair to Guadeloupe», underlines Corsair.
For several years, Corsair le Sport has been a major focus of partnerships forged by the company. Invested in local life, the company supports many outdoor sports activities in Overseas France: sailing, trekking, golfing, horse racing, football etc. that bear strong values. Corsair is indeed involved in several major events. In addition to the Route du Rhum, it is a sponsor of the Open Corsair International, the 1st tennis tournament in Martinique, the Golf Open in Guadeloupe and Martinique or the Tour de Guadeloupe, the island's emblematic cycling event.
These partnerships are part of a strong corporate social responsibility policy also affecting the issues related to energy transition in the aviation sector, in particular through the renewal of its fleet: «We have a fleet of 9 aircraft, including 5 new A33neo which will have joined the fleet by April 2022. The other four A330s will be renewed by 2024", the company declares. The environmental performance of this new Airbus is a marked improvement compared to that of older generation aircraft. They enable a 25% reduction in fuel consumption and C02 emissions per seat, as well as a 60% reduction in the noise footprint.
CORSAIR IN A NUTSHELL
Corsair is a French airline operating regular flights to the Caribbean (Guadeloupe, Martinique, Punta Cana), the Indian Ocean (Reunion, Mauritius and Mayotte), Africa (Ivory Coast) and Canada (Montreal). It is a historic player in overseas services. Since late 2020, the company capital has been held by a consortium of overseas entrepreneurs, as well as two local Guadeloupe and Martinique authorities. The company has always had the ambition to contribute to the development of economic, tourist and freight exchanges between Overseas France and Metropolitan France. Corsair is also a historical player in territorial continuity, allowing overseas residents to travel and reunite with their families.
Corsair has strengthened its presence in West Indies services with the recent opening of new connections between the provinces and the West Indies (Lyon/Pointe-à-Pitre, Bordeaux/Pointe-à-Pitre, Nantes/Fort-de-France) . The company also supports youth employment, as illustrated by the 40 cabin crew recently recruited in Guadeloupe.