A member of the prestigious French Chefs Association des Toques Françaises Guyanese Chef Katia Desprez is sharing her gourmet recipe with ONAIR readers.
35 minutes
INGREDIENTS
• 1 ribbon of lime zest
• 1 teaspoon of vanilla extract
• 1 teaspoon of bitter almond
• 2 cinnamon sticks
• 1 liter of whole milk
• 1 can of sweetened condensed milk
• 1 can of unsweetened condensed milk
• 60 g of cocoa powder or a stick of grated gwo kako (raw cocoa)
• 1 tbsp of cornstarch
• 1 tbsp. of peanut butter or peanut paste
• 20 g of cane sugar
RECIPE
1. Pour in the whole milk, sweetened condensed milk, the unsweetened condensed milk and the bitter almond. Mix and bring to a boil for 5 minutes. Lower the heat then let it simmer about fifteen minutes, mixing as you go.
2. Add the ribbon of lime zest, the cinnamon stick and vanilla extracts. Let it simmer five minutes.
3. Mix the powdered chocolate or the grated cocoa stick in a little cold milk or water with the cornstarch and the cane sugar. Add it to the above then mix gently. Bring again to a simmer.
4. Add the peanut butter.
5. When the mixture begins to thicken, keep stirring, without stopping, over low heat for at least 15 min.
6. Simmer over low heat for 10 minutes.
7. Serve the hot chocolate
8. You can serve it with a slice of West Indian "butter bread". A delight!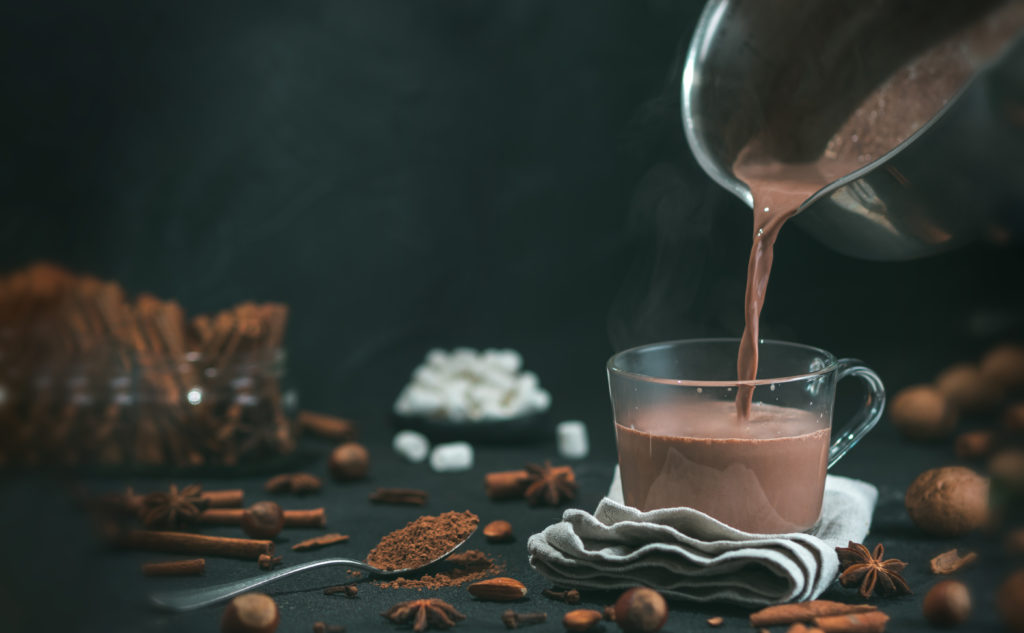 10INFO : KATIA DESPREZ
Home Chef @ Kréyol & Co
Professional Member of the Association des Toques Françaises
02100 SAINT-QUENTIN
Tel. +33 7.88.06.29.23
Email: KATIADESPREZ@GMAIL.COM