It is THE best-known Jamaican street food, the Jamaican cousin of French West Indies pâté salé and Latin American empanadas. Sweet Kwisine could not miss it. These delicious things have everything I love: crispy-almost-flaky shortcrust pastry, meat, a good dose of spices and of course chili! To enjoy warm, with a salad, for people of all generations. Now, let's get started and set off to Jamaica!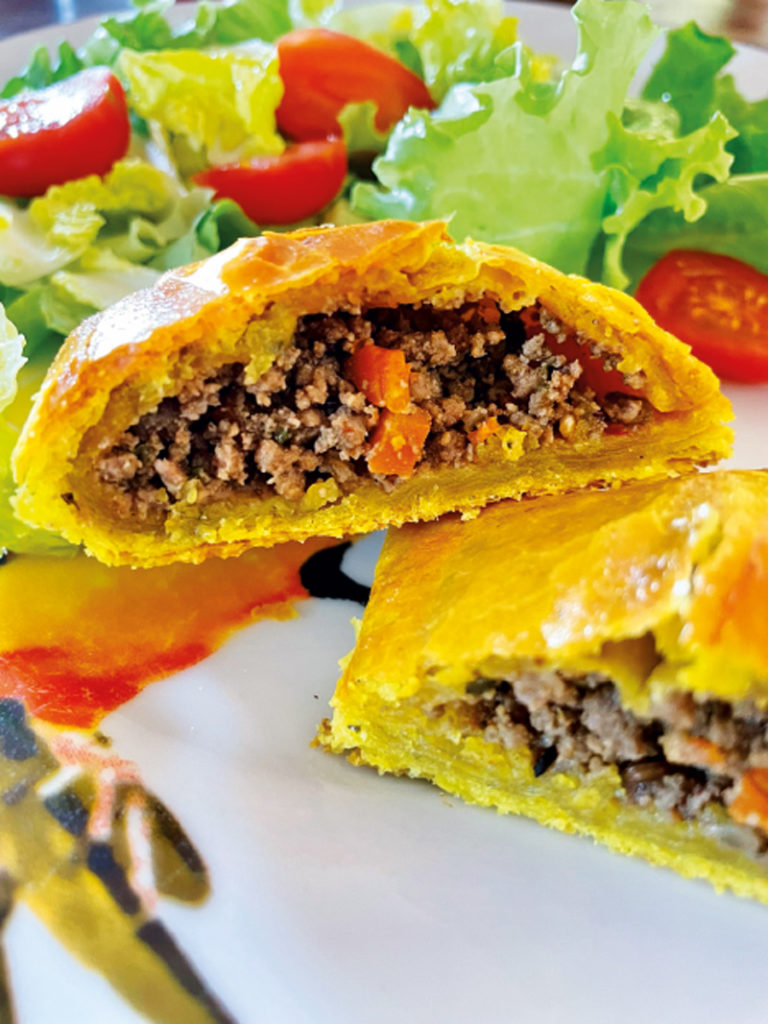 INGREDIENTS
For about 8 medium sized beef patties, you will need…
For the dough:
• 250g of flour
• 95g of soft butter (or 125g)
• 30g of lard (optional)
• About 10 cl of milk
• 1 teaspoon of fine salt
• 1 tsp of sugar
• 1 tsp of turmeric powder
• 1 tsp of curry powder
• 1 egg for glazing
• 200g of minced beef
• 1 carrot
• 1/2 brown onion
• 2 chives
• 1 clove of garlic
• 1 drop of grated ginger
• 1/2 tsp of ground cumin
• 1/2 tsp of paprika
• 1/2 tsp of brown sugar
• 1/2 red habanero pepper without seeds
• Salt pepper
PREPARE THE DOUGH
– In a bowl, mix the flour, salt, and spices.
– Add half of the cold butter (keep the rest in the fridge) and incorporate it into the flour until you get a fine sand.
– Then add the cold milk little by little and knead a little. You must get a soft and moist dough that does not stick to your fingers.
– Wrap the dough and refrigerate for about 30 minutes. After this pause time, on a generously floured work surface, roll out the dough.
– Using a peeler, place shavings of butter and lard over the entire surface, about half the quantity. Close the dough on each side, then as a wallet.
– Flour the dough and start again.
– Store in the fridge for another 30 minutes.
PREPARE THE STUFFING
– Cut the carrots, onions, garlic, and ginger into very small dice.
– In a frying pan, brown the vegetables and minced meat well with a drizzle of oil.
– Add the spices, chili, a little water, and simmer covered while the carrots are cooking.
– Do not hesitate to add a little water and mix so that the stuffing does not stick to the bottom of the pan. The stuffing should be fluffy!
– Adjust the seasoning with salt and pepper and let cool.
MAKE YOUR BEEF PATTIES
– On a floured work surface, roll out the dough as thinly as possible into a long rectangle.
– Using a knife or a pizza wheel, cut out about 8 rectangles.
– Place a generous quantity of stuffing approximately in the middle of a rectangle and close it by sticking well the edges previously moistened with a little water.
– Glaze the beef patty with whipped egg.
– Preheat the oven to 180°C.
– Place the patties on a baking sheet covered with parchment paper and cook for 25 minutes.
They are golden and smell wonderful!
INFOS
MORE RECEIPIES
https://sweetkwisine.com/